Before moving to the Netherlands I worried constantly about learning Dutch. I had visited numerous times enough to know that Dutch is not the easiest language to master (yet alone pronounce). I moved to Amsterdam last year and my friends and colleagues assured me that it wasn't necessary since everyone spoke English. To this day I still think that's funny because in my case learning it is required! Here is my experience learning Dutch so far.
Why I Need to Learn Dutch
My boyfriend is fluent in English and that's the language we converse in, however, to better communicate with his family and some friends Dutch would really help (there are only so many birthday & family gatherings that you can go through when the only word you know is lekker) . Secondly, since I'm an American living in the Netherlands I am required to take an integration exam called Inburgering. As part of the exam there is a language portion incorporating listening, reading and writing in which I am to be tested on and pass at a A2 level. Lastly, knowing Dutch is almost needed to get a job here.
Late winter of this year I was enrolled into my first official Dutch class. Fast forward 3 months and I have passed my A1 course and am eligible to move onto A2. This language journey of mine has just started.
Why you Should learn Dutch
It may be easier for an English speaker to grasp
Believe it or not but Dutch is not too far off from English, in fact it's pretty close since it stems from the Germanic family. It also helps that he Dutch are the best non-native english speakers in the world. In the English language there are many Dutch words that we use. Here are a couple Dutch words that the English language has borrowed and you may have not noticed:
| | |
| --- | --- |
| Boss | Baas |
| Coleslaw | Koolsla |
| Dike | Dijk |
| Landscape | Landschap |
| Yacht | Jacht |
| Cookie | Koekje |
To better Understand the Culture
I think one of the best ways to learn about a language is through its culture. Memorizing the dictionary and knowing all grammar rules is good but you probably won't find that useful when speaking to people on the street or communicating with natives. There are respective mannerisms, social skills and even humor that you can learn through the language and better help you connect with the culture.
To Speak with Others Internationally
While Dutch is not widely spoken it is spoken in more places than you think. You can head to Belgium, Suriname, Aruba, Sint-Maarten, Curacao where they will understand your Dutch. It's always handy to know another language especially if you have the opportunity to travel to a country that speaks it!
Improve your CV
I don't know about you but I'm always trying to sharpen my language skills to improve my CV. Especially with living in Europe where most people speak an average of 2-3 languages. While there are alot of English speaking companies there are more that prefer you to speak Dutch. And frankly, most companies would prefer a multilingual candidate or one who was at least attempting to learn the language.
Learn Dutch to Make Friends
In the Netherlands many Dutch people speak English. Because of this expats and foreigners have the misconception that learning the language is not required. Learning the language of the country you're in will help ease making connections with others. There is a door of trust and understanding that is opened and thus friendships and relationships are possible.
What has Helped Me in Learning Dutch
Dutch Classes
I went from saying key phrases to being able to have a basic conversation in A1 level. While I do think language is also a bit of a personal process taking a class can really compliment your journey. In my class we had frequent group activities which really pushed me out of my comfort zone but eventually made me comfortable enough to speak with others in Dutch. Also, try enrolling in a class that has a intimate setting with not too many people. This way you'll be able to get more one on one time with the teacher and have less distraction when compared to a much larger class.
Language Apps
This is by the far the easiest and most fun way to get in some language learning. I could be on my phone reading the news or texting a friend and remember that I can play a game on Babbel and learn some new vocabulary words. Try setting a daily timer to keep yourself more accountable! The Babbel App is set to 11 am on my phone everyday so I make sure I get some Dutch learning in more frequently.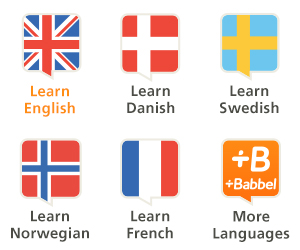 Having a Speaking Buddy Helped Me in Learning Dutch
How can you master a language without speaking, speaking and more speaking?! Conversation is a must and if you can try, do it with a native speaker. I'm lucky enough to have my boyfriend speak with me on a regular basis. Usually this is around dinner time when we discuss what we have done for the day. Although it's quite simple conversation it has really improved my ability in speaking comfortably with him. If you don't have someone close to you to speak with on a regular basis I suggest going to a language cafe. You can meet up with someone one on one and speak together. Many of these language/exchange cafes require that your switch languages. For instance, if you are learning Dutch and speak Italian then you can speak Italian in exchange. It's a wonderful trade off and great way to meet others!